I've been reading a lot about artificial intelligence and journalism lately. Yesterday I read two studies that examine the scholarly literature in this area. Both were published in 2021.
The first, Artificial intelligence and journalism: Systematic review of scientific production in Web of Science and Scopus (2008-2019), examined 209 articles published from January 2008 to December 2019. The researchers used these search terms: robot journalism, automated journalism, algorithm journalism, computational journalism, augmented journalism, artificial journalism, and high tech journalism. They also searched for simply journalism and artificial intelligence.
From the 209 articles, they identified these additional themes: audience, authorship, big data, chatbots, credibility, data journalism, ethics, events detection, fact-checking, online comments, personalization, production, social media, technologies, and theory.
The number of articles published per year has increased sharply since 2015 (as you might expect). Sixty-one of the items were published in 2019, the final year in this study. The researchers also counted countries, institutions, citations, authors, and looked at collaborations, noting especially that collaboration among authors from different countries has been rare. One-third of the articles are from the U.S., while Germany, Ireland, Spain, and the U.K. combined account for more than one-third. The journal Digital Journalism had published the most articles (36).
Keywords were supplied for 80 percent of the publications. Analysis identified more than 1,000 distinct keywords. These were the most common, in order starting with most-used:
Computational journalism
Automated journalism
Robot journalism
Journalism
Artificial intelligence
Data journalism
Algorithms
Automation
Algorithmic journalism
Social media
Big data
Other commonly seen concepts included: bots, fact checking, innovation, and natural language generation (NLG). Verification and personalized content also appeared in several articles.
The five most-cited articles (with more than 100 citations each) are from 2010 through 2015. The authors' names will not surprise you if you have been following this field of study: C. W. Anderson, Mark Coddington, Nicholas Diakopoulos (three articles; two with co-authors).
The authors of the study described above are Luis Mauricio Calvo Rubio and María José Ufarte Ruiz, both of Universidad de Castilla-La Mancha.
Another study of research on AI and journalism
The second study, The application of artificial intelligence to journalism: An analysis of academic production, did not use a specific start date, and ended with articles published in January 2021. The search string used:
"robot journalism" OR "computational journalism" OR "automated journalism" OR ("artificial intelligence" AND "journalism") OR ("artificial intelligence" AND "media")
After eliminating irrelevant articles, 358 were included for review, significantly more than the 209 items in the earlier study. In covering the entire year of 2020, which was not included in the earlier study, these researchers found there was a drop in the number of publications that year. This might be attributed to the global pandemic — although many articles for publication in 2020 would have been submitted in 2019, the processes of peer review and editorial oversight could well have been slowed by the burdens of that first pandemic year. For 2019, 74 articles were found. For 2020, the number was 43.
Like the other study, this one found a significant increase in relevant publications after 2015, but not the same consistently upward trajectory. Less than 13 percent of the items were published before 2015.
As in the other study, here too more than two-thirds of the articles came from Europe and North America. Only articles published in English were included, so this might not accurately represent all the research that exists in this topic area.
Multidisciplinary work "almost always comes from experts working in the same country. Eighty-six percent of the texts reviewed are written by authors whose universities are in the same country, and very often these authors belong to the same university" (page 5).
Six researchers accounted for 15 percent the articles in the sample (in order by number of publications): Nicholas Diakopoulos, Neil Thurman, Seth C. Lewis, Ester Appelgren, Eddy Borges-Rey, and Meredith Broussard. This was interesting to me, as I am not familiar with work by Appelgren or Thurman, while I have read all the others. (Both Appelgren and Thurman have published a lot about data journalism.)
Note, only those six authors have published four or more articles on this topic (within the 358 texts reviewed).
The researchers noted their surprise that so many of the items were "works of an essayistic nature, without either a well-defined methodology or precise research techniques." Many articles "reflect generalist, introductory, or exploratory approaches." In more recent publications, they noted "more specific research, with more consistent objectives, methodologies, or developments — and therefore closer to the orthodox research articles usually published in academic journals" (page 6). Qualitative methods predominate.
Based on their analysis of the 358 items, the researchers identified three principal areas for "application of artificial intelligence in journalism": data journalism, robotic (or automated) news writing, and news verification (including "fake news"). It's important to note, I think, that applied AI in journalism is not going to include uses of AI by the social media platforms (or search engines), which affect how news is distributed and shared.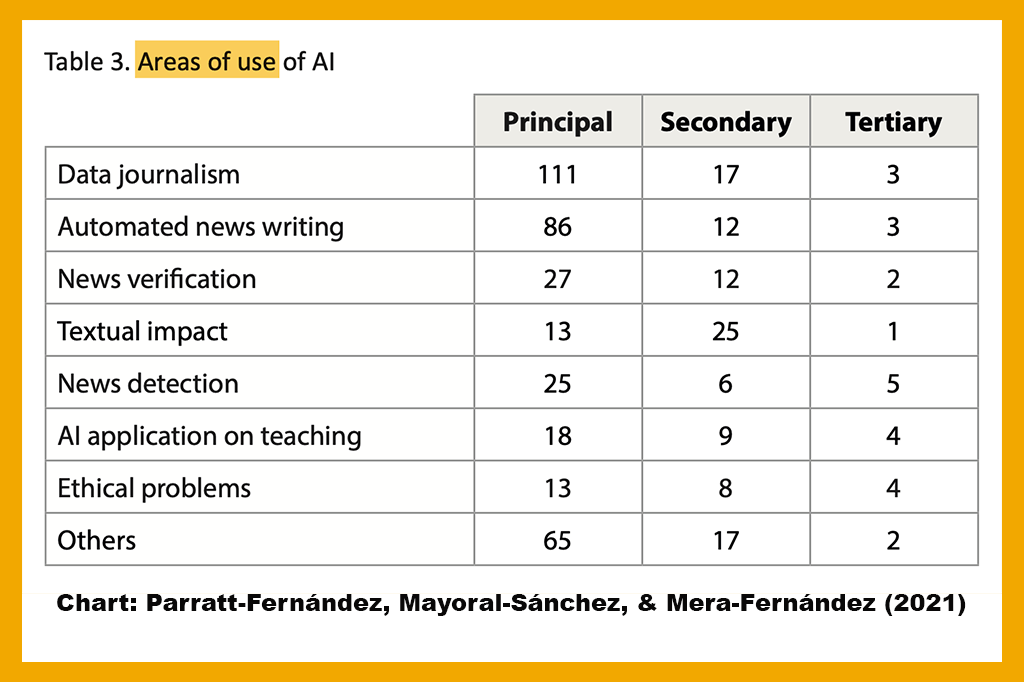 Those three principal areas also exclude what is often called personalization, or news recommendation engines, which are applications of AI currently used by many news organizations. Distinct from the ordering and selection of news content by platforms (e.g. Facebook), this technology determines what individual users see in the apps or websites of the news organizations themselves, e.g. Recommended for You: How Newspapers Normalise Algorithmic News Recommendation to Fit Their Gatekeeping Role (2021).
Other prominent topic areas included "the impact of new AI technologies on the writing of journalistic texts" (I'm not sure how that differs from robotic news writing; maybe chatbots? SEO and clickbait?), and "the use of tools that allow information to be extracted and processed — e.g. from social networks — enabling journalists to discover a news event as quickly as possible" (page 7). The latter topic is also called "social media listening" (but not in this research paper). For example, when numerous mentions of an event such as an explosion, or a protest, or police action, start popping up in relation to one geographic location, an AI-trained model can recognize that it's an unusual occurrence and send an alert to the newsroom.
The amount of academic research on data journalism was high from 2015 to 2017, but it has decreased since then and "experienced a considerable decline in 2020," the authors noted. It's kind of funny how data journalism often gets lumped in with artificial intelligence; much of data journalism has absolutely nothing to do with AI.
Ethical issues related to artificial intelligence and journalism have been neglected, according to this study's findings. "The potential for development in this area is still enormous," the authors said (page 8).
These researchers anticipate a need for new research on the professional routines and roles of journalists, assuming these will be affected by an increasing integration of AI systems into newswork. These changes will have an impact on journalist training requirements and university curricula as well.
Without falling into hyperbole, the authors speculated that AI represents "the next phase of technological revolution" in an industry that has been successively transformed by computerized page design and printing, internet news distribution, the rise of social media platforms, and viral disinformation campaigns and fake news (page 9).
The authors of the study described above are Sonia Parratt-Fernández, Javier Mayoral-Sánchez, and Montse Mera-Fernández, all of Universidad Complutense de Madrid.
.

AI in Media and Society by Mindy McAdams is licensed under a Creative Commons Attribution-NonCommercial-NoDerivatives 4.0 International License.
Include the author's name (Mindy McAdams) and a link to the original post in any reuse of this content.
.