Mashable recently published a series about algorithms.
The first post, "What is an algorithm, anyway?", addresses the fact that the word algorithm is often bandied about as if it means a mysterious, possibly evil, machine-embedded power.
But an algorithm doesn't need to have anything to do with computers. An algorithm is a set of instructions for how to solve a problem. A recipe for a cake is an algorithm.
And yes, of course, computer software is full of algorithms. The programs that make machine learning and artificial intelligence work are full of algorithms. So algorithms are not magical, and they are not good or bad by nature. Also, they are not perfect.
We went through a period — maybe five years, maybe more — when there were a ton of articles about algorithms, and the word became almost common in nonfiction book titles. Now I see a shift toward the term AI — or artificial intelligence, or machine learning — substituting for algorithms in provocative headlines.
Too many articles, though, don't make much of an effort to differentiate, to explain what they're really talking about. They may as well just say computers, or software.
An algorithm is real. It is constructed by a person, or people, to do a certain task. Algorithms are often combined, so that inside one algorithm, another algorithm is followed. Thus algorithms can be components of other algorithms.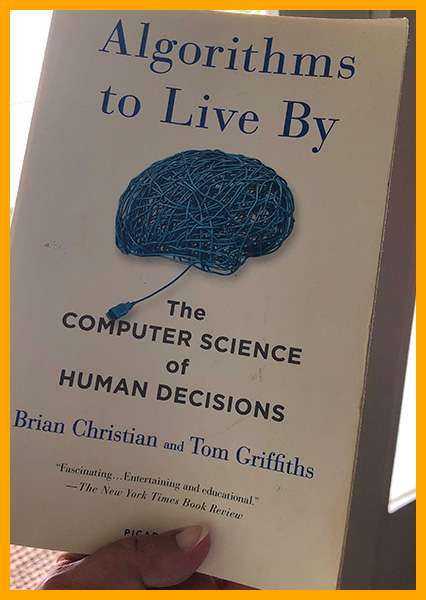 I'm often reminded of a book I read three years ago, Algorithms to Live By: The Computer Science of Human Decisions. It was fun to read, but it was hardly the breezy self-help type of thing the cover blurbs might lead one to believe. The authors describe and explain a number of established algorithms used widely in various fields and applications — and they apply each one to everyday life.
Stories about the people who discovered (authored) many of the algorithms are woven in. I appreciated seeing how someone working on one problem sometimes ended up solving another. I also saw how an algorithm built for one use gets repurposed for other ends. Best of all, I understood what many of the algorithms are meant to do — as well as how they do it.
What I'd like to see in general articles about algorithms is a little more of what Christian and Griffiths managed to do in their book.

AI in Media and Society by Mindy McAdams is licensed under a Creative Commons Attribution-NonCommercial-NoDerivatives 4.0 International License.
Include the author's name (Mindy McAdams) and a link to the original post in any reuse of this content.
.