Practitioners and Pioneers in Media Convergence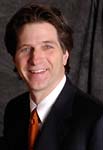 Keith Graham (panel moderator): "I was born in the south but found my way to Montana. I love it here -- the Big Sky, the rivers and mountains are irresistible. After leaving my home state of Mississippi I did my undergraduate degree in English and history at Vanderbilt University. After studying and traveling in Switzerland, I returned to the states and headed to graduate school at the University of Missouri, where I received my master's degree in journalism, while producing a book with two other colleagues called Glascow, A River Town. While I was finishing my degree at Missouri, I got hired at The Miami Herald as a staff photographer, where I also pinch-hit as a picture editor and designer on occasion. I got married in December of 1983 and then headed west to the San Jose Mercury News where I worked as a graphics editor and a staff photographer. Then I moved across the country again, this time to Virginia, where I worked at The Roanoke Times as a staff photographer, picture editor and director of photography. In the summer of 1998 I moved to Missoula, Montana where I am an associate professor and director of the photojournalism program in the School of Journalism at The University of Montana. I teach courses in photojournalism, design and new media. Iíve been photographing Montana family ranches, the landscape of our state and regional rodeos. My work has appeared in the New York Times, the Los Angeles Times, Chicago Tribune, Time, Newsweek, Life, Sports Illustrated, Paris Match and other publications."
Materials >none
Lauren Eshkenazi is originally from Baltimore, Maryland, and received a B.S. in Mass Communications from Towson University in 2002. In January 2003 Lauren joined baltimoresun.com as a Web producer where she created several online features including an informative graphic detailing real estate trends over a six-year period, interactive cards for sports players, and 'Maryland's Fallen,' a look at those with local ties killed in Iraq. Lauren was also the lead designer and producer for MarylandWeather.com, a weather-related Web site serviced by The Baltimore Sun. Lauren was promoted to Senior Web producer in March 2006. Since then, Lauren has been involved in many joint projects with the print newsroom, including a package on the 1918 flu epidemic and 'Mutts,' a series written by Baltimore Sun reporter John Woestendiek. Most recently she was the lead project manager and market contact for baltimoresun.com's redesign, an effort led by Tribune Interactive to update the publishing platform and template design for each market. The year-long project was completed in July 2007. In addition to her position at baltimoresun.com, Lauren teaches Digital Publishing in the New Media track at Towson University. This course teaches students the differences between online and print publication in journalism, convergence models, online trends, and Web site publication and production techniques.
Materials > to come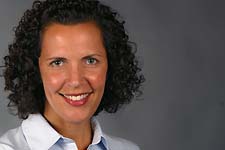 Christina Pino-Marina is an award-winning videojournalist for washingtonpost.com. In addition to the Web site, her work has been featured on CNBC and on MHZ Networks. Since 2004 she has been part of the washingtonpost.com team that has won consecutive Edward R. Murrow awards for the site's video news coverage. In 2005, she became the first female videojournalist to win multiple first place awards in the White House News Photographers Association's annual television contest. That same year she was awarded an honorable mention from the Casey Journalism Center on Children and Families for a video about domestic abuse. Her video report on Mexican elections was nominated for a 2006 Emmy in the National Capital Chesapeake Bay Chapter of the National Academy of Television Arts and Sciences. "A Life Lived in 4/4 Time," an online video documentary about a German-born jazz musician, won the RIAS Berlin Commission's award in the new media category in 2007. Christina wrote for USA Today and the El Paso Times before joining washingtonpost.com as a reporter in 2000. She became a part of the Web site's multimedia division in 2003.
Materials > to come
Brian Storm is a passionate and innovative leader in the fields of photojournalism and new media. Storm has focused on the craft of visual storytelling as a photojournalist, a picture editor, a technological innovator, and a champion of fair and emerging business practices. Prior to launching MediaStorm in 2005, Storm spent two years as vice president of News, Multimedia & Assignment Services for Corbis, a digital media agency founded and owned by Bill Gates. Based in New York, Storm led Corbis' global strategy for editorial production, packaging, and the representation of world-class photographers for assignment work with a focus on creating in-depth multimedia products. From 1995 to 2002 Storm was director of multimedia at MSNBC.com, a joint venture of Microsoft and NBC News, where he was responsible for the audio, photography and video elements of the site. His team created the Web's first on-demand and live video destinations as well as The Week in Pictures and Picture Stories to showcase visual journalism in new media. Storm received his master's degree in photojournalism in 1995 from the University of Missouri, where he ran the School of Journalism's New Media Lab, taught Electronic Photojournalism and produced CD-ROMs for the Pictures of the Year competition and the Missouri Photo Workshop.
Materials > to come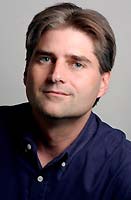 Don Wittekind is an assistant professor in the visual communication sequence at the University of North Carolina at Chapel Hill. Before making the move to teaching, he spent 10 years as informational graphics director at the South Florida Sun-Sentinel, where he led the creation of the first newspaper-based multimedia graphics department. Under his direction, the Sun-Sentinel created its first interactive project in December 1996, and continued as an industry leader throughout his tenure. Wittekind's work has won top honors from the Newspaper Association of America, Editor & Publisher, the Online News Association and the SND.ies. In addition to teaching, Wittekind continues in multimedia production as the CEO of Swarm Interactive, a company he co-founded in 1998. Swarm specializes in medical animation and custom interactive graphics for news web sites.
Materials > to come
Note: Bio information and materials provided as received from the panelists and/or panel moderator.