Go Books

Learn to Play Go, Vol. I
> A great book to give as a gift; it includes a decent punch-out cardboard Go set you can use right away to get started. Janice really understands her audience, and her explanations are very clear.
The Way of the Moving Horse: Learn to Play Go, Vol. II
> Janice's second book is every bit as great as the first one.
Go board with stones
> This basic set is adequate for beginners. The board is 12 inches square (a bit small) and made of wood. It comes with plastic stones and two cloth bags to hold the stones.

Go for Beginners
> This book by a Japanese master is the one that thousands of Westerners learned from; still a fine introduction to the game.
The Second Book of Go: What You Need to Know After You've Learned the Rules
> The title says it perfectly: When you are ready for your second book about this game, this is a great one to buy. It explains things that start to puzzle beginners after they have been playing for a while.

Graded Go Problems for Beginners, 30 Kyu to 25 Kyu
> These illustrated problems are really excellent for learning and advancing in Go! If you can't solve them in your head, go ahead and play them out on the board. Much better for beginners than the really hard problems in books such as Tesuji and In the Beginning (which are not really for beginners at all).

Go, A Complete Introduction to the Game
> Written by a modern master of the Korean style of Go, this is another book well-liked by people who are new to Go.
The Master of Go
> This novel (by Yasunari Kawabata, a Nobel Laureate) tells a story about age, the challenge of youth, the passing of glory, and of course, the drama of the Go game. Excellent literature; a classic.
The Girl Who Played Go
> This novel will not win a Nobel Prize, but it's an engaging story set in China during the Japanese occupation. The schoolgirl of the title has a regular game in the park with a Japanese soldier disguised as a Chinese civilian.

Pi (DVD)
> This 1998 independent film, shot in black and white on location in New York, is kind of weird and definitely not for everybody. But Go shows up several times as a disturbed math genius (who is trying to discover a "magic number") tries to beat his old college professor at the game. (Also available in VHS.)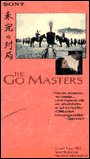 The Go Masters (1982)
> Here's a movie that's not available to buy, but maybe you can find a copy in a library. The title in Japanese is "Mikan no Taikyoku." A Chinese-Japanese co-production, its subject is a 30-plus-year-long Go game between two men who are friends on opposite sides in a bitter war.